As of ACS v5.4 Cisco has finally included VMware tools for their ADE OS. Unfortunately, when you upgrade, they do not get installed automatically as the installation is triggered during the initial install. This post is for those of us that have upgraded to version 5.4 and didn't choose to do a fresh install.
First of all, you need to get your hands on the Root Patch. This Root Patch allows you root shell access to the ADE OS, which is just a customized version of Redhat Linux. You can get this patch from TAC by asking them nicely, or telling them you need to install VMware tools on your ACS 5.4 install. I'm sure if you're clever you can find a copy out in the wild as well. But your mileage may vary…
Installing the ACS Root Patch
This part is pretty simple. Using the ADE OS application installer, install the package using a predefined repository…

acs/eladmino# application install RootPatch-ACS-5-4.tar.gz ftp 
Save the current ADE-OS running configuration? (yes/no) [yes] ? 
Generating configuration...
Saved the ADE-OS running configuration to startup successfully
Initiating Application installation...

Application successfully installed
acs/eladmino# 

Using the Root Patch
After the install, you have to logout and back in for the commands to show up in your session. Once you log back in you can run the root_enable command to set the root password. Once the password has been defined you can login using the root command.

Copyright (c) 2012 Cisco Systems, Inc. All rights Reserved

Last login: Fri Oct 18 15:34:48 2013 from amattke.tcu.ad.local
Copyright (c) 2012 Cisco Systems, Inc. All rights Reserved

acs/eladmino# root_enable
Password : 
Password Again : 

Root patch enabled

acs/eladmino# root
Enter root patch password : 
Starting root bash shell ... 
ade #

Installing VMware tools
Once you are in the root shell you can pretty much do whatever you want, including completely destroying your server. From here you simply have to navigate to the /opt/system/etc/vmware-tools-distrib/ directory and run the vmware-install script as shown below. The script should automagically configure itself and install vmware tools. Once complete exit ADE OS, and within a few momemnts VMware Tools should show as Running within the vSphere Client.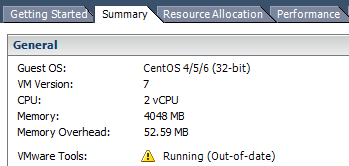 [ read more... ]
{ 2 comments }