This blog and any reproduction of its content is the creation of Tony Mattke. The content created herein reflects my opinions and conclusions, supported by fact… Or pretty much whenever I feel like. Nothing I write about on this blog should be viewed to reflect any opinion of any employer, past or present. I write for myself and myself alone. Details provided on this blog should not be perceived to reflect the actual design or configuration of any technology or infrastructure deployment. I write about what interests me – some of the tools and technologies that I write about may be used in existing deployments, but I also write about other things as well. This blog is simply an exploration of these experiences in a generic way that you, the reader, can learn about these concepts and find a way to integrate them into your own day-to-day experiences. Any sharing or re-sharing of content (i.e. Twitter retweets/favorites, link posting, etc.) is not an endorsement or acknowledgement of any kind, just an indication that I feel a topic warrants further scrutiny and/or discussion.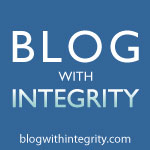 I believe strongly in blogging with integrity. I have signed the pledge, and I believe in everything it says.
While I may go back from time to time and correct small typographical errors in past posts, I do not believe in revisionist writing. I started this blog because I wanted to document my learning experiences, and when I write something, it is what it is. Any writing, negative or positive, about vendors or their products, are my opinion, and mine alone. No vendor or employer, past or present, or any other organization, has any influence whatsoever in what I write, and I don't speak for anyone but myself. When I write about a product or vendor, it's because I felt strongly about it in some way that I was compelled to share with the public on my own. One of my leading goals for my career is to remain objective, and get down to the nitty-gritty details of whatever technology I work with. Each of my employers thus far have been diverse in their vendor partnerships, and it is my goal to keep it that way. I always value the diversity and generalization of technology so that common ground can be found. This is why I got into networking in the first place; at the end of the day, standards-based protocols must be used somewhere. I write about these technologies because they're in front of me, begging to be analyzed. That's all I want to do.
Tech Field Day
I occasionally attend various Tech Field Day events organized by Gestalt IT. These events are sponsored by networking vendors who thus indirectly cover our travel costs. In addition to a presentation (or more), vendors may give us parting gifts ranging from their own products, to usb keys and various swag.
The vendors sponsoring Tech Field Day events don't ask for, nor are they promised any kind of consideration in the writing of blog posts, and as always, all opinions expressed here are entirely my own and not those of sponsoring vendors, my employer and/or its affiliates, and all the mistakes are my fault (but please do feel free to point them out, I gladly correct factual errors).
Cisco Blogs
Being a Cisco Champion I am asked from time to time to write a post for the Cisco blog. This is no way shape or form guarantees them any bias. As with any article I write, my opinions are my own, and I will express them as I see fit.
Network Computing
Information Week / Network Computing magazine pays me for writing articles. They can and do suggest topics, but I only write about what I am interested in. While they do perform editing on my blog articles, I do retain final say on what gets published. Again, nothing I write about there should be viewed to reflect any opinion of anyone other than myself.
Packet Pushers
See Tech Field Day / my blog. Seriously, do I have to keep spelling it out? Fine. Packet Pushers doesn't hold any influence over my writing, nor do they kidnap my family and hold them hostage until my views match theirs. Anything I write / talk about on their site is solely my opinion, and was not influenced by anything… other than the occasional drink. The content I create there is sourced from nothing but my own opinion.
Non Disclosure Agreements
In the IT field, and certainly within the blog-o-sphere a number of NDA's get thrown out. I abide by and respect the penalties for not doing so. If you are willing to share confidential information with me as a customer, knowing that I am a blogger… You have no worries. I have not and will not violate that trust as it only harms my future in this field. This includes Cisco's Certification and Confidentiality agreements. I also abide by and respect the copyrights of the training vendors that I used to study for exams. I won't discuss the content outside of the publicly-known information or information that is specifically excluded from NDA. I will not "share" my workbooks or digital materials with you just this once for old times sake.
Warranty and Full Disclosure
RouterJockey is furnishing this blog "as is". RouterJockey does not provide any warranty of the item whatsoever, whether express, implied, or statutory, including, but not limited to, any warranty of merchantability or fitness for a particular purpose or any warranty that the contents of the blog will be error-free.
In no respect shall RouterJockey incur any liability for any damages, including, but limited to, direct, indirect, special, or consequential damages arising out of, resulting from, or any way connected to the use of the blog, whether or not based upon warranty, contract, tort, or otherwise; whether or not injury was sustained by persons or property or otherwise; and whether or not loss was sustained from, or arose out of, the results of, the blog, or any services that may or may not be provided by RouterJockey.
RouterJockey does not accept liabilty for our websites being accurate, complete or up-to-date or for the contents of external links. We distance ourselves expressly from the contents of the linked pages, over the structure of which we have no control. This statement is valid for all of the links on the websites and for all contents of the pages to which the links or banners lead. RouterJockey is not responsible for direct, indirect, incidental or consequential damages resulting from any defect, error or failure to perform.
This blog is intended solely for information purposes and are not to be construed, under any circumstances, by implication or otherwise, as an offer to sell or a solicitation to buy or sell or trade in any commodities, securities, or currencies herein named. Information is obtained from sources believed to be reliable, but is in no way guaranteed. No guarantee of any kind is implied or possible where projections of future conditions are attempted. In no event should the content of this blog be construed as an express or implied promise, guarantee or implication by or from the services, newsmax or any of its officers, directors, employees, affiliates or other agents that you will profit or that losses can or will be limited in any manner whatsoever. Some recommended trades may involve securities held by our officers, affiliates, editors, writers or employees, and investment decisions may be inconsistent with or even contradictory to the discussion or recommendation in the service. Past results are no indication of future performance. All investments are subject to risk, which should be considered prior to making any investment decisions. Consult your personal investment advisers before making an investment decision. The amount of signed books remaining applied to the original airing of the broadcast only. For privacy protection, abbreviated or fictitious names were used for some of the individuals in this report. While these individuals had great results, results are not the same for everyone. Certain products in this presentation are free with the offer made on our product offer page. The offer may require payment to cover shipping and handling or a subscription to one of our paid newsletters.
Congratulations!
If you made it this far and fully read and understood everything above I am impressed with your conviction.
Unfortunately you do not win anything.