This morning several CCIE candidates received an email stating that on August 1, 2011, Cisco will be raising the cost for the CCIE lab from $1,400 to $1,500. This is an interesting twist in events as the Internet trolls have been circulating rumors that the lab would soon be lowered to $1,000. Why has Cisco made this almost insignificant change? I assume this may have to do with the struggling economy and fewer attempts being made. Seeing as Cisco just implemented a layoff of 6,500 employees, you'd think they would be refocusing attention on their core fundamentals. Will raising the price of the lab affect the number of attempts? Probably not, but its not a risk I would be taking right now. Cisco should currently be embracing their learning candidates, not asking them for more money.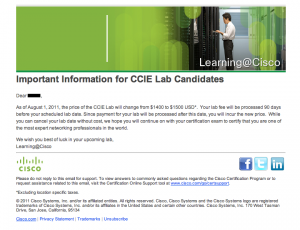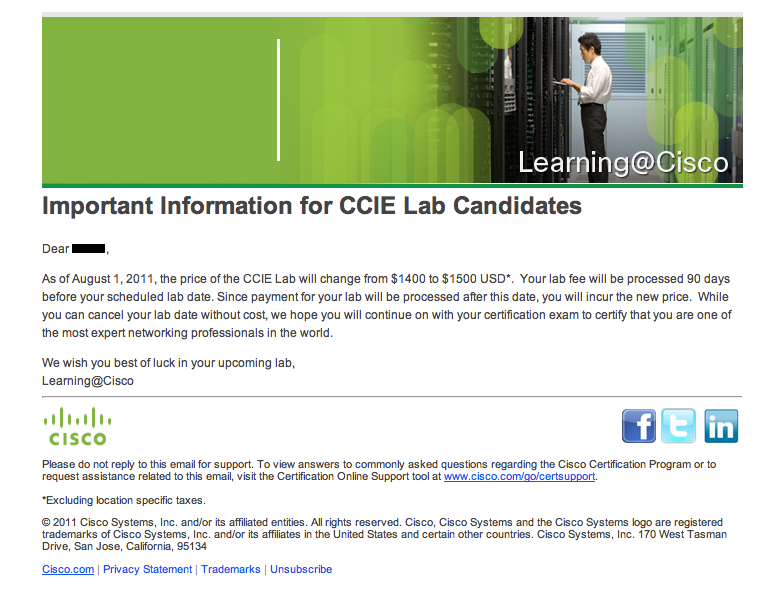 I'm really interested in what everyone thinks about this change. If you have something to say, feel free to follow up with me in the comments section. Thanks!
Network engineer turned management currently servicing the enterprise data center market. I started working on networks in the '90s and still feel like that was just a few years ago. Jack of all trades, master of none; I love to learn about everything. Feel free to ask me about photography, woodworking, nhra, watches, or even networking! — For feedback, please leave a comment on the article in question, and I'll respond as soon as I can. For everything else including fan mail or death threats, contact me via twitter.