This week at Interop NYC, Cisco launched it's ISR 4000 Series. This is a new approach for them focused on delivering services to your branch offices. Cisco has dubbed this new approach the Intelligent WAN (IWAN) — but before we talk about that, let's talk about hardware. Those of us that have been paying attention remember that Cisco announced the ISR 4451 at Cisco Live 2013. The 4451 boasts a multi-core CPU architecture that runs the all to familiar by now IOS-XE. It's 1-2 Gbps of throughput made it a perfect fit for those looking for something in between a 3945 and an ASR1k. Now Cisco that Cisco has brought the rest of the family into the spotlight it all makes sense.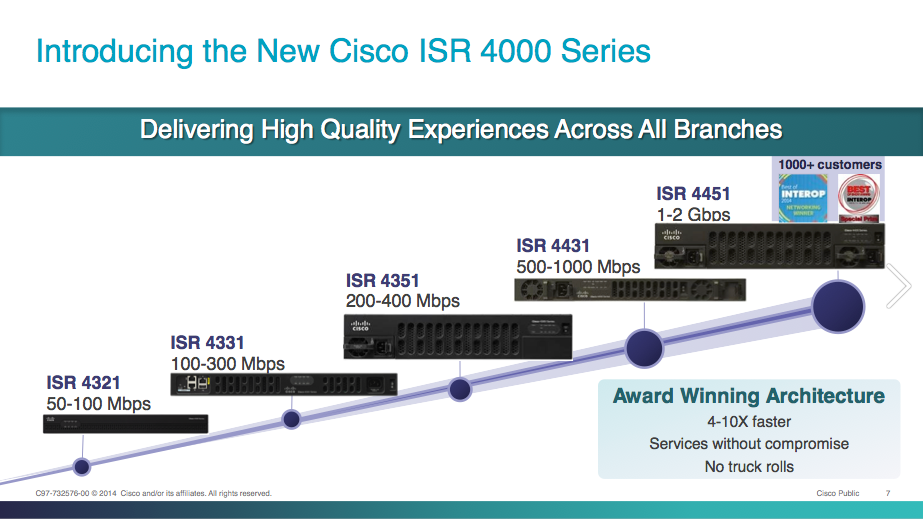 IWAN focuses on a few key fundamentals to get more bang for your buck. And because Cisco has stuffed some serious hardware into the 4k you won't see the same performance hits you're all too familiar with in the ISR series. But more on that in a second. Here is Cisco's break on on the Intelligent WAN…
Transport Independence – Providing flexibility when it comes to connectivity. DMVPN can help augment your network with low cost bandwidth for your branches.
Intelligent Path Control – PfR allows you the granular control of policy based path selection which takes into account delay, loss, jitter, and hard coded path metrics.
Application Optimization – AVC, WAAS, and Akamai Connect allow your to accelerate your applications and reduce bandwidth consumption by caching (even pre-loading) data.
Secure Connectivity – IOS Firewall, IPS, CWS provide comprehensive threat defense and protection.
The problem
My brighter listeners (?) may of noticed that Cisco has given us a rather broad range of throughput specs on the slide included above. That is because they are introducing "Pas as you grow" licensing! (Yay?!) Under the hood Cisco is shaping our traffic… Yes, that means your brand new ISR 4451 with no features turned on and no additional licensing will be bored out of it's mind while it only passes 1gbps of traffic. In addition to the shaping of traffic, they are also shutting down cores. Their argument is that if you're taxing your system by turning on nearly every feature under the sun, we want to ensure that you do see an improvement in throughput when you purchase the performance license. Which in some ways makes sense… but I have never been a fan on manufacturers disabling hardware that I physically own. How long before we're only allowed to rent these things?
Goodbye WIC/HWIC/EHWIC
Cisco has finally drawn the line in the sand. And I for one say it's about time. By giving us a new interface slot, they're opening the door to interface options that we never had before. All of which makes me happy. The new cards are Network Interface Modules (NIMs) and we still have slots for our service modules, but the new cards are now Enhanced Service Modules which of course have a greater throughput capability. Our friends in the voice field will be glad to know that you can now purchase NIMs with built in DSP resources! Yay! — Actually, this leads into one of the best things I've noticed with the new line of ISRs…. Cisco has actually put some thought into the form factor of these routers. I can buy a low – mid range ISR with TONs of slots (ISR 4351) or a higher end router that is still just 1RU (ISR 4431), this alone makes me happy.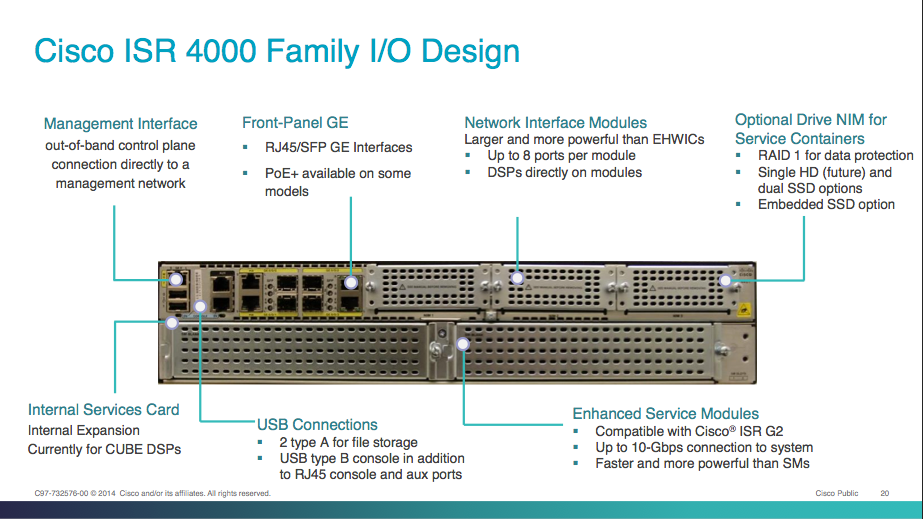 For more information…
Standard TFD Disclaimer
While Cisco and HP were responsible for paying a portion of the travel and lodging costs for me during this Tech Field Day Extra event, they do not have input into what I write or say, if anything. And while I do appreciate being dragged across the US at last notice, I will not compromise my integrity.
Network engineer turned management currently servicing the enterprise data center market. I started working on networks in the '90s and still feel like that was just a few years ago. Jack of all trades, master of none; I love to learn about everything. Feel free to ask me about photography, woodworking, nhra, watches, or even networking! — For feedback, please leave a comment on the article in question, and I'll respond as soon as I can. For everything else including fan mail or death threats, contact me via twitter.