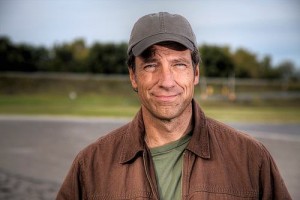 Cisco just announced to the Cisco Champion community that the guest speaker for the keynote is going to be none other than …… Mike Rowe!! In case you don't know, Mike Rowe is an American TV host, narrator, actor, and former opera singer. He is best-known for his extensive work on the Discovery Channel. He has starred on the shows Dirty Jobs, and narrated many shows including Deadliest Catch, American Hot Rod, and Ghost Hunters. He also did a quick stint on the QVC Shopping Network where he was hired after talking about a pencil for nearly eight minutes. According to his bio,  he worked the graveyard shift for just three years, until he was ultimately fired for making fun of products and belittling viewers. I've included one of my favorite videos from his time at QVC down below, be sure to check out some of the other ones if you haven't seen them.
Mike also founded the mikeroweWORKS Foundation, which promotes hard work. Mike has long been a supporter of the skilled trades and his foundation works hard at awarding scholarships to men and women who demonstrate an aptitude for doing the work that America needs. He is also closely associated with the Future Farmers of America, Skills USA, and the Boy Scouts of America, who honored him as a Distinguished Eagle Scout. And Forbes has identified him as one of the country's 10 Most Trustworthy Celebrities in 2010, 2011 and 2012.
I am so excited about this years event. Aerosmith? Mike Rowe? What's going to be next!? If you want to hear Mike speak, you have to come to Cisco Live. So if you haven't already registered for CLUS15,  it's not too late, so do it NOW!!!
Oh, and it seems that Jeff finally got his wish… and it only took 4 years =)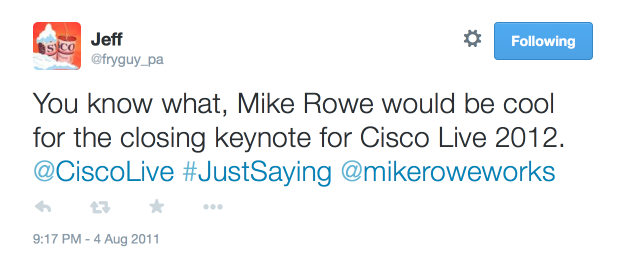 Network engineer turned management currently servicing the enterprise data center market. I started working on networks in the '90s and still feel like that was just a few years ago. Jack of all trades, master of none; I love to learn about everything. Feel free to ask me about photography, woodworking, nhra, watches, or even networking! — For feedback, please leave a comment on the article in question, and I'll respond as soon as I can. For everything else including fan mail or death threats, contact me via twitter.