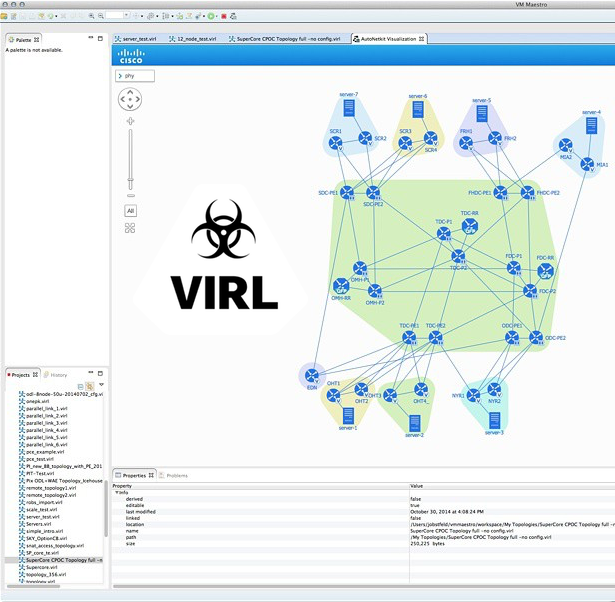 After much waiting from all of us, Cisco has released, on "cyber Monday" no less, VIRL. As you may remember, VIRL was the talk of CLUS 2013, and many of us have been eagerly waiting for this tool ever since. For those of you out of the loop, VIRL enabled users to rapidly design, configure and simulate Cisco network topologies. With this we can run IOSv (IOS Virtual) IOS XRv, CSR1000v (Which runs IOS-XE), and NX-OSv (ala the previously leaked Titanium). The cool factor really starts to come into play when you look at how fast you can deploy the base network configurations. Cisco has leveraged OpenStack, KVM, and AutoNetkit along with their VM Maestro GUI to allow you to quickly create network topologies, and have the base configurations built automagically. The downside is we are missing some features that some of us are rather used to including, Serial interfaces, Cisco ASA, and L2 Support. Hopefully these will arrive in the future, although I've heard no rumors of such as of yet….
Pricing is done in two tiers, both of which are annual subscriptions. The personal edition is $199.99/year (But you can save $50 currently by using the virl50 promo code), and the Academic Version runs $79.99/year. Both are limited to 15 devices, and include all updates during the subscription period. And since they are run as virtual machines, you can tie them directly into your current lab networks to extend your environment. Many of us had hoped for a free edition of VIRL, but the Academic pricing isn't bad… Although it does seem to limit it's licensing to "college students, parents buying for a college student, or teachers, homeschool teachers and staff of all grade levels" Personally, I would always consider a person seeking continued certification status a student of continued education ala Cisco.

Obviously the pricing here does not include the price of either a bare metal server, or what will most likely be the common deployment, a supported visualization environment (currently VMware). The VIRL website currently indicates the following as supported hypervisors.
VMware Fusion Pro v5.02 or later (including v6.x or v7.x)
VMware Workstation v8.04 or later (including v9.x and 10.x)
VMware Player v5.02 or later (including v6.x)
ESXi 5.1 / 5.5 using the vSphere Client: ESXi 5.1U2 (Build 1483097) or ESXi 5.5U1 (Build 1623387)
I haven't pulled the trigger on purchasing my copy yet, as I'm waiting to hear some more feedback first. But once I start hearing good things, I will be jumping on the band wagon. I've spent far too much time messing with Dynamips, Dynagen and GNS3 to pass up on Cisco's official offering.
Here are a few links to some great blogs posts I've seen on VIRL and CML.
External Links
Network engineer turned management currently servicing the enterprise data center market. I started working on networks in the '90s and still feel like that was just a few years ago. Jack of all trades, master of none; I love to learn about everything. Feel free to ask me about photography, woodworking, nhra, watches, or even networking! — For feedback, please leave a comment on the article in question, and I'll respond as soon as I can. For everything else including fan mail or death threats, contact me via twitter.