Mid December 2012 Apple shut down the Messages Beta for Lion, soon after many hackintosh users started noticing issues with signing into iMessage. At some point in time, people far smarter than me managed to patch a little used bootloader called Clover to allow us to log into iMessage, but Clover is young and still full of random issues. Honestly, it never liked the system id on my partition, so I was never able to use it. But now, it seems that someone has patched our widely used Chameleon bootloader! I've tested it on my own hackintosh, and many users are also reporting success.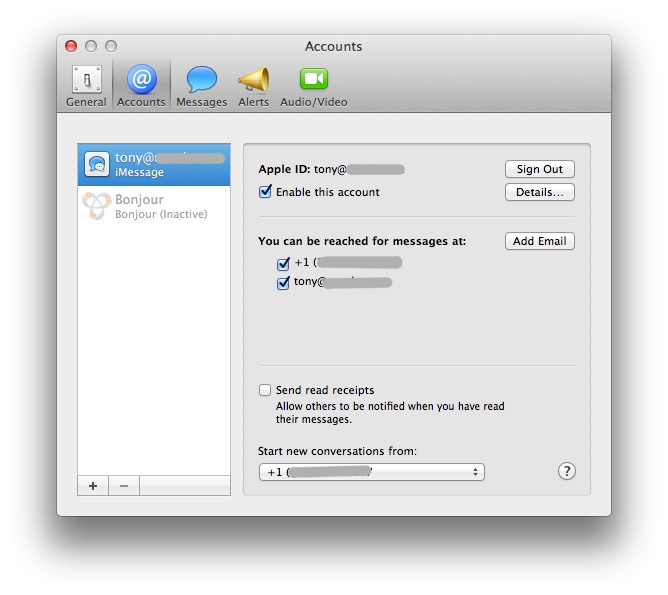 The instructions are simple enough, and should only take you 3 minutes + a reboot to implement and test!
Download the following files to your hackintosh
Execute the following commands

sudo mkdir /Extra/modules
cd /Extra/modules
sudo unzip ~/Downloads/FileNVRAM.dylib.zip
sudo rm -rf __MACOSX
sudo rm -rf ACPICodec.dylib

If you have ACPICodec.dylib in your /Extra/modules folder, you need to delete it.
Unzip the Chameleon installer, and run it — make sure you install to your boot disk
Reboot, and try to login to iMessage
Hopefully this will take care of your issues. If not, it was worth a try! I highly recommend the Insanely Mac Forum for researching any issues you may be having. After all, where do you think I learned how to do this?
Network engineer turned management currently servicing the enterprise data center market. I started working on networks in the '90s and still feel like that was just a few years ago. Jack of all trades, master of none; I love to learn about everything. Feel free to ask me about photography, woodworking, nhra, watches, or even networking! — For feedback, please leave a comment on the article in question, and I'll respond as soon as I can. For everything else including fan mail or death threats, contact me via twitter.