Recently, an update to all jailbroken phones could of caused major damage to anyone who uses Rock… There were several community updates in the last few days due to the iPad and new Jailbreak release. Saurik believe that Rock is ignoring some key fundamentals of being an APT client, which has caused critical system files to be deleted including diskdev-cmds. If you're a victim of this, you will only realize when you try to reboot your phone (which you should not do until you've verified that you're phone is OK) Upon reboot your phone will show the Apple/Pineapple logo as normal, but 8 – 12 seconds in, it will shut off. If you enable verbose booting via redsn0w you will see that you're getting a fsck failed message…
Verification
SSH into your phone, check the /sbin directory… make sure you see fsck, fsck_hfs – if these are missing, your phone should NOT be rebooted. The following screenshot is from a phone that has been trashed.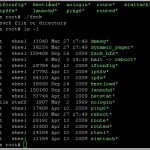 Before rebooting, some users have reported being able to repair the damage.. Please read through this thread and see if you're able to repair your damage with apt-get from the shell.
Hope
There is some hope that you will be able to recover your phone. iBeej, a community member and fellow network engineer, is working on a fix as I write this. He has successfully fixed his wife's phone aswell as many others on the ModMyi forums. As of this morning there is a new version available of his patch which fixed my fsck issues. I'm mirroring this software for him here. ( Mac / Windows )
As for the original IPSW firmware, you can download it directly from Apple using the links on the iCommunity website.
iBeej's idea was to use the redsn0w Cydia package to push data onto your phone, he simply modifies the tarball included in the redsn0w package to include utilities necessary to get the phone back online. I had experimented with this briefly last night, but was unable to deliver the right combination of packages to my phone.
The following threads are reporting the issue, the last one being iBeej's thread which includes his solution.
http://modmyi.com/forums/cydia-support/708704-cydia-updates.html
http://modmyi.com/forums/general/709372-iphone-3gs-wont-boot-past-apple-logo-turns-off-itself.html
http://modmyi.com/forums/general/710060-solution-iphone-shut-off-during-boot-stuck-apple-logo.html.
Lets all do ourselves a favor and stop using Rock… I know I don't want to go through this again..
Update
The latest package seems to have fixed my fsck issues, but it appears I also suffer from the dylib issues believed to be caused by MobileSubstrate… I'll update this page again if I find a way to fix these issues without performing a full restore.
Network engineer turned management currently servicing the enterprise data center market. I started working on networks in the '90s and still feel like that was just a few years ago. Jack of all trades, master of none; I love to learn about everything. Feel free to ask me about photography, woodworking, nhra, watches, or even networking! — For feedback, please leave a comment on the article in question, and I'll respond as soon as I can. For everything else including fan mail or death threats, contact me via twitter.