This summer I learned about a fantastic offer from Juniper to 'fast track' you into a certification. They're offering training material, and if you can pass their pre-assessment exam, they will give you credits to take your certification exam 100% free of charge. I think this is a great move from a major company to help out people who are willing to help themselves. ( Does that make sense? I hope so) I've decided myself that I need to put my nose to the grindstone and finish off my CCNP. After that, I plan on taking a look at these Juniper certifications, and if I can, attempting to pass as many of them as possible. They're currently offering 4 certifications under the fast track program. Of course, this is a limited time offer. Here is what they have to say, direct from their fast track website.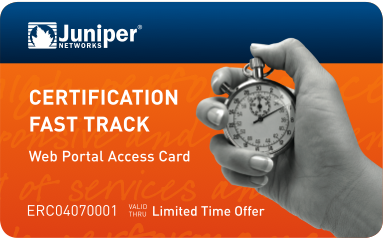 Between January and December of 2009, you have online access to study materials at no charge so you can quickly increase your value by earning JUNOS-based certifications. If you're interested in enterprise routing, enterprise switching, or the latest security platforms running JUNOS, this is the place to go for courseware and discounts on certification exams.
Network engineer turned management currently servicing the enterprise data center market. I started working on networks in the '90s and still feel like that was just a few years ago. Jack of all trades, master of none; I love to learn about everything. Feel free to ask me about photography, woodworking, nhra, watches, or even networking! — For feedback, please leave a comment on the article in question, and I'll respond as soon as I can. For everything else including fan mail or death threats, contact me via twitter.