I finished up most of my registration for Cisco Live 2011 / #cl11 yesterday and figured I would put up a copy of my schedule. My only wish would be that there was more times available for some of the courses. You never know what you're going to get out of a session until you attend one, which almost makes you want to attend them all!! As always my schedule is subject to change at any time. All times are local Las Vegas PDT (UTC-7).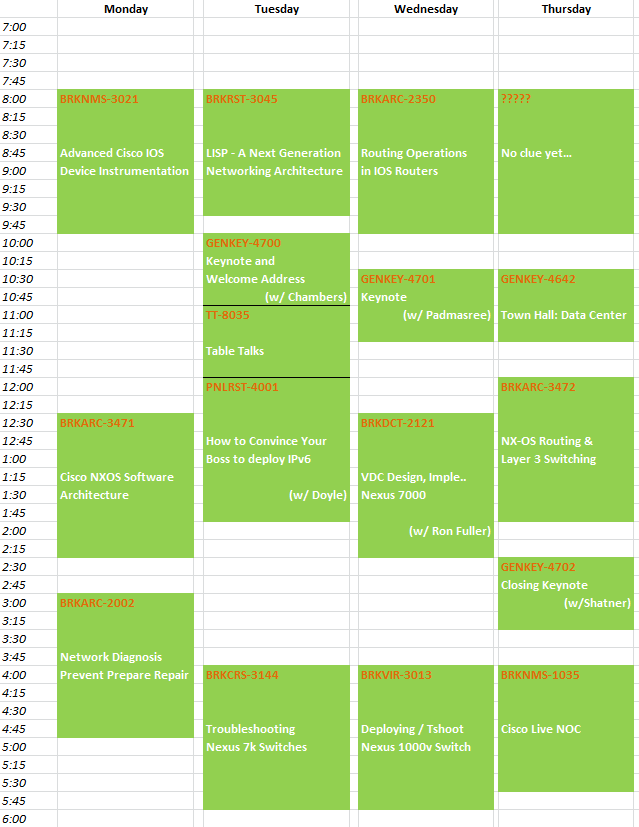 I'll be flying into Las Vegas from ORD on Friday morning and checking into the Mandalay Bay that day. My flight home leaves early on Friday 7/15 which also happens to be my birthday! If you're going leave me a comment here, I'm looking forwarding to meeting all of you!
Network engineer turned management currently servicing the enterprise data center market. I started working on networks in the '90s and still feel like that was just a few years ago. Jack of all trades, master of none; I love to learn about everything. Feel free to ask me about photography, woodworking, nhra, watches, or even networking! — For feedback, please leave a comment on the article in question, and I'll respond as soon as I can. For everything else including fan mail or death threats, contact me via twitter.