Yesterday, work presented an interesting issue I wanted to share with everyone. While configuring a new virtual machine one of our systems engineers was presented with an issue he had never seen before, vCenter wouldn't let him add the VM's interface to the port-profile for VLAN 61. Instead it would pop up the following message.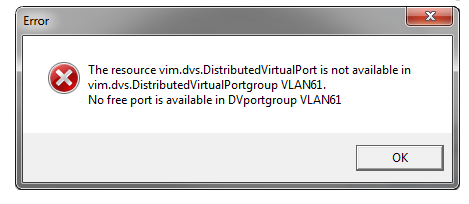 While I have some experience with VMware and ESX, I am far from an expert in the field. So, I did what most any engineer would do. Asked for a screenshot of the error and fired up Google! Five minutes and 2-3 Google searches later I gave up on that and started digging through vCenter. I found my way into the networking section and opened up the summary tab for the VLAN 61 port-profile inside the 1000v. This is where found that apparently, by default, only 32 vEthernet ports are configured for each port profile. Another 30 seconds with IOSNX-OS help and I had found the solution…

UCS-1000v-VSM1# conf t
UCS-1000v-VSM1(config)# port-profile type vethernet VLAN61
UCS-1000v-VSM1(config-port-prof)# vmware max-ports 252
UCS-1000v-VSM1(config-port-prof)# end

As soon as you make this change vCenter picks up on it and reconfigured the port profile. You should now be able to move your VM into the port-profile without issues.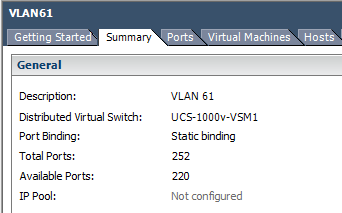 While this is a pretty simple fix, I found it rather interesting. Why use static port assignments in such a dynamic environment? As I discussed in my previous post, Introduction to the Nexus 1000v Cisco limits you to a combination of 2048 virtual and physical ports, so while assigning 252 ports to each VLAN would be nice, its far from practical, unless necessary.
Network engineer turned management currently servicing the enterprise data center market. I started working on networks in the '90s and still feel like that was just a few years ago. Jack of all trades, master of none; I love to learn about everything. Feel free to ask me about photography, woodworking, nhra, watches, or even networking! — For feedback, please leave a comment on the article in question, and I'll respond as soon as I can. For everything else including fan mail or death threats, contact me via twitter.