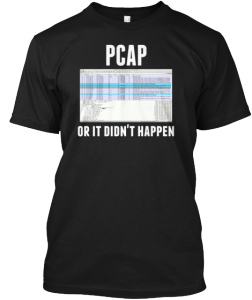 Some days I don't know why I do things… But last night I was playing around with creating a PCAP meme when my friend Josh Kittle said he'd be interested in a t-shirt like that. I got to thinking about it and realized some network engineers out there also might enjoy something like this, so I fired up a campaign on teespring!
Let me know what you think, I may do other shirts in the future as this was fun to work on. If you have any ideas you don't plan on using, let me know and I might work on developing them.
Oh, and since Jay Franklin had to have an IPv6 shirt… I also launched another version with an IPv6 packet capture, and the #IPv6 hashtag on the back.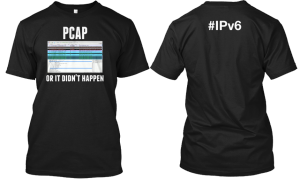 Click one of the shirts to see them on teespring…
Network engineer turned management currently servicing the enterprise data center market. I started working on networks in the '90s and still feel like that was just a few years ago. Jack of all trades, master of none; I love to learn about everything. Feel free to ask me about photography, woodworking, nhra, watches, or even networking! — For feedback, please leave a comment on the article in question, and I'll respond as soon as I can. For everything else including fan mail or death threats, contact me via twitter.