First, I want to apologize for not doing my job. Over the past couple years I've let this site become slightly stagnant. I won't attempt to make excuses, but I will say that I'm in a much better place now. Hopefully inspiration will continue to strike, and I will continue to put pen to paper… or finger to keyboard?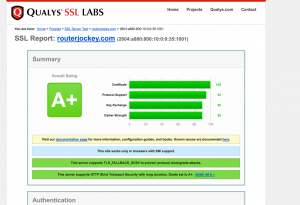 Over the past couple weeks I've put a fair amount of time and monetary resources into RouterJockey. I've fixed quite a few CSS bugs, without hopefully creating more. I purchased an SSL certificate and moved the site to HTTPS, which helps me more than it really does you… but in doing so, I've also enabled SPDY 3.1. SPDY should help load times, but Nginx was already doing a pretty good job. Oh, in order to get SPDY up to 3.1 I was forced to migrate away from the Ubuntu repo for Nginx.. but that's not a huge deal.
I've also spent some time redesigning the menu bar, adding new links, removing some useless ones, and writing an all new disclaimer. Please be sure to read and understand everything posted on that page before attempting to read any of my articles… /s
But seriously. I want to take the time to thank all of you for putting up with my stagnation, and for supporting my attempt at humor by selling t-shirts. I had planned on also putting some stickers on sale, but I cannot find a site like teespring for stickers. If you know of one, please let me know!
Network engineer turned management currently servicing the enterprise data center market. I started working on networks in the '90s and still feel like that was just a few years ago. Jack of all trades, master of none; I love to learn about everything. Feel free to ask me about photography, woodworking, nhra, watches, or even networking! — For feedback, please leave a comment on the article in question, and I'll respond as soon as I can. For everything else including fan mail or death threats, contact me via twitter.