Some of you may have heard that Jeff Fry has published his Unofficial JNCIE-ENT Prep Guide, but how many of you have purchased it yet? I've had the opportunity to look it over as he was completing it, and I must say it is an impressive collection of work. He has stuffed over 500 pages into the workbook and we're not talking about fluff. Countless hours and many months of work later, he has published it with LeanPub, and will continue to issue updates. That is one of the nice things about Leanpub, with your purchase, you have the right to receive all future updates to the content! And many publishers, at least the ones I've purchased from, do push out significant updates to their work. You also receive a 100% guarantee on your purchase, that means if you are not happy, you can receive a full refund within 45 days of purchase. Jeff has also published a sample which includes the full table of contents and small sample section of the content.
If you're studying for the JNCIE-ENT use the link below and receive 25% off your purchase.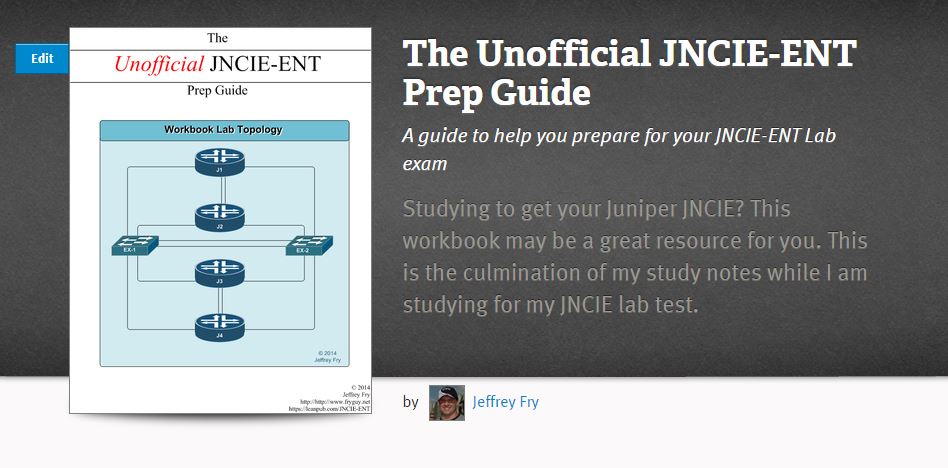 Network engineer turned management currently servicing the enterprise data center market. I started working on networks in the '90s and still feel like that was just a few years ago. Jack of all trades, master of none; I love to learn about everything. Feel free to ask me about photography, woodworking, nhra, watches, or even networking! — For feedback, please leave a comment on the article in question, and I'll respond as soon as I can. For everything else including fan mail or death threats, contact me via twitter.