Over the years IT professionals have sat through countless presentations, conference calls, and keynotes. We've been preached too, explained "the problem", and forced to bear witness to the the future. During such events all of us have had to step up and explain that we already understand the problem, we know who your company is, and we really just want to know how your product works.
Outside of the normal annoyances, there are several words and phrases that invoke pain and disgust in our hearts, one such phrase came up today. While I won't mention the source, or berate them anymore than they already have been. I do want to put this list out there for future reference… If I've forgotten something that drives you crazy, please, feel free to contact me so I can add it here.
Cloud — we've jumped the shark with Cloud years ago….
Gartner — No one that understands technology cares what Garner says. Period.
Magic Quadrant — See above.
Single Pane of Glass — An overly obvious marking term.
Next Generation — Really? Prove it.
Game Changer — See above.
Software Defined $something — Just like Cloud, we've driven this into the ground
And last, but not certainly lease… money shot.
Other things to avoid are keeping us at 30,000 feet instead of letting us get dirty, Death by PowerPoint, and circling the airport and refusing to land. And don't forget using cliché metaphors…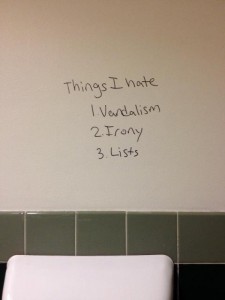 Network engineer turned management currently servicing the enterprise data center market. I started working on networks in the '90s and still feel like that was just a few years ago. Jack of all trades, master of none; I love to learn about everything. Feel free to ask me about photography, woodworking, nhra, watches, or even networking! — For feedback, please leave a comment on the article in question, and I'll respond as soon as I can. For everything else including fan mail or death threats, contact me via twitter.