So, I purchased a couple extra routers, and a second layer3 switch from @usedciscoguy. He gave me a really good deal and I plan on purchasing a 6500 series switch from him as soon as I can afford it. Anyway…. I've spent a little bit of time working on a new topology that should allow me some flexibility. I did realize today that I've run out of asynchronous serial ports on my 2511 though.. I am now in the market for a NM-32A and maybe a 3620 to run it on… maybe. I figure I can sell the 2511 for close to what I can buy a -32 for, so there wont be too much of a cost incurred there…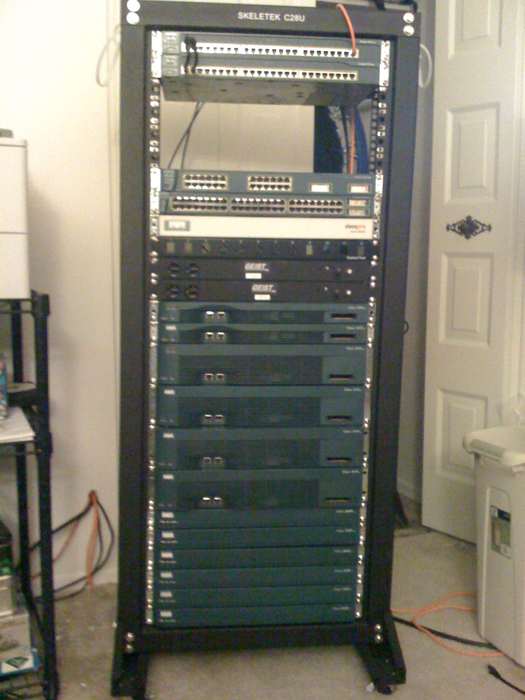 Here is a pic of where I am on reracking everything. (sorry about the crap iPhone image) The space you see on top is for 3 2610XMs that I'm waiting on, and my 1U ImageStream router. (for integration testing) I have lots of cards to switch around still and obviously even more cabling to redo.
If anyone has any questions about setting up a home lab, please feel free to ask in the comments section below. I plan on publishing tutorials soon on setting up a home access server, and building your own frame switch.
Network engineer turned management currently servicing the enterprise data center market. I started working on networks in the '90s and still feel like that was just a few years ago. Jack of all trades, master of none; I love to learn about everything. Feel free to ask me about photography, woodworking, nhra, watches, or even networking! — For feedback, please leave a comment on the article in question, and I'll respond as soon as I can. For everything else including fan mail or death threats, contact me via twitter.